Annual Meeting of the Paleontological Society (Paläontologische Gesellschaft) 2019
15 –18 September 2019 in Munich

Link to the German Website
We are happy to announce the Annual conference of the Paläontologische Gesellschaft (PalGes) in Munich. We aim to organize an international meeting at which cutting-edge research in the fields of palaeontology, geobiology and palaeobiology is presented. PalGes is one of the oldest and largest palaeontogical societies of the world and it is the fifth time that this conference is held in Munich (1950, 1960, 1985, 2010, 2019).
Munich is Bavaria's beautiful capital situated at the foot of the Alps and surrounded by several picturesque lakes. It has been ranked among the top cities in terms of life quality, is famous for its museums and beer gardens. Munich is also a top place for natural sciences.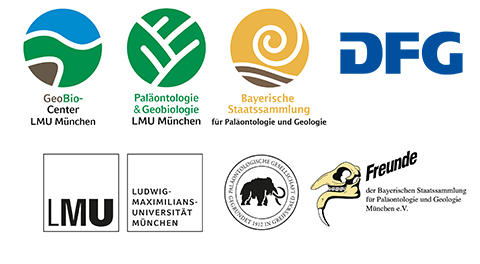 Conference organizers
Venues
Department for Earth and Environmental Sciences and
Paläontologisches Museum
Richard Wagner Str. 10 and Luisenstr. 37
80333 München
Germany
Organizing committee
Alexander Nützel
Carolin Haug
Joachim Haug
Michael Krings
Oliver Rauhut
Mike Reich
Bettina Reichenbacher
Gertrud Rössner
Gert Wörheide
Contact
Office: Ella Schönhofer, 0049-089/2180 6630
Alexander Nützel 0049-089/2180 6611
E-mail: palges2019@palmuc.org
Call for symposia and workshops
We are asking all colleagues who would like to organize a symposium or a workshop to submit proposals latest on January 31, 2019:
E-mail: palges2019@palmuc.org
The following symposia have been proposed to date
Physiology in Deep Time (Organizers: Uwe Balthasar, Kenneth De Baets, Carl Reddin, Nussaïbah Raja Schoob)
more details
Fossil fishes in the context of evolution, environments and biogeography (Organizers: Bettina Reichenbacher, Tomas Přikryl & Gloria Arratia)
more details
Late Paleozoic and Mesozoic Plants and Floras (Organizers: Michael Krings, Benjamin Bomfleur & Christian Pott)
Evolving ecosystems (Organizers: Alexander Nützel & Joachim Haug)
Mikropaläontologie (Organizer: Anna Pint)
Workshop
Open data analysis and publication: from morphology to evolutionary patterns (Conveners: Emilia Jarochowska and Kenneth De Baets; Guest speakers: Melanie Hopkins & Stephan Lautenschlager) more details
Field trips
Pre-conference, 15th September 2019
Vertebrate excavation Hammerschmiede, Miocene Molasse Basin; organizer: Madelaine Böhme
Upper Jurassic Plattenkalke (lithographic limestones) of Solnhofen and Eichstätt (includes visit of the Solnhofen Museums); organizer: Martin Röper
Post-conference, 19th September 2019
Palaeontology und geology of the Miocene Ries meteor crater, Nördlingen (includes visit of the Rieskrater-Museum); organizer: Stefan Hölzl
Preliminary program
Talks are in English and in exceptional cases in German.
Sunday, Sept. 15, 2019
Work group/Section meetings, board meetings,
Pre-conference field trip
From 4 pm Registration
6 pm Icebreaker – until late in the night
Monday, Sept. 16, 2019
8 am Registration
9 am–6 pm Welcome addresses, plenary-talks, symposia, poster session
6 pm Business meeting paläontolopgische Gesellschaft
Tuesday, Sept. 17, 2019
8 am –4 pm Talks

6 -7:15 pm Public evening lecture "Planet Earth and its very first inhabitants" (talk in German), to be delivered by the popular astrophysicist and science journalist Harald Lesch
7:30 pm until late in the night Conference Dinner at Munich's beautiful botanical garden
Wednesday, Sept. 18, 2019
8 am –4 pm Talks, Closing ceremony with a plenary lecture, awards
Thursday, Sept. 19, 2019
Post-conference field trip, Work group/Section meetings
Plenary Talks, preliminary


Per Ahlberg, Uppsala: New light on the origin of tetrapods
Gloria Arratia, Lawrence: Fishes in a temporal dimension: Origins, radiations, and extinctions
Donald E. Canfield, Odense: Life at Low Oxygen
William A. DiMichele: Washington, DC 20560: Late Paleozoic xeromorphic floral elements as upland, extrabasinal, and/or paleoclimatic indicators, and why it is important to clarify the confusion surrounding these concepts
Olga Otero, Poitiers: Fish fossils and the reconstruction of continental paleoenvironments
Jakob Vinther, Bristol: The evolution of Spiralia using genomes and fossils
Important: Conference participants are independently responsible for their transportation to and from the venue, as well as for hotel or accomodation in Munich, and are recommended to make arrangements as early as possible. Munich in fall is peak tourist season, and last-minute affordable accomodation is limited.
Hotel information http://www.muenchen.de/hotel
Deadlines
Symposium or workshop proposals: January 31, 2019
Abstract submission and Early Bird-Registration: June 15, 2019
Conference fees & registration
Conference fees will be announced in the Second Circular and registration forms will be posted on the homepage.
Biomin XV: 15th International Symposium on Biomineralization
Before our PalGes-meeting this very interesting symposium will also be held in Munich (9–13 September 2019) and participants may consider to attend both meetings: www.biomin2019.de
Additional information on symposia and workshops
Symposium
Physiology in Deep Time: from proxies to evolutionary trends
Organizers: Uwe Balthasar, Kenneth De Baets, Carl Reddin, Nussaïbah Raja Schoob
Organisms with different physiologies are expected to respond differently to global environmental changes. Future environments may resemble conditions that have not existed for millions of years. To assess strategies and conditions tolerated by particular organisms, it is necessary to understand how biomineralization, body size, environmental tolerance, metabolic rates, and physiological responses relate with the paleoenvironmental changes in the deep past. To address these questions, relevant proxies from modern organisms need to be combined with the fossil record. We welcome contributions focusing on individual groups, time-intervals, or large-scale temporal or organismal patterns across the geological record.
Symposium
Fossil fishes in the context of evolution, environments and biogeography
Organizers: Bettina Reichenbacher, Tomas Přikryl & Gloria Arratia
The total number of living fish species is approximately 33,600, which accounts for about 50% of all living vertebrate species. Exploring the evolutionary history of this unique diversity is not only a current issue for palaeontologists, but also provides key information for a general understanding of present-day aquatic ecosystems. Our primary goal in organizing this symposium is to exchange results of current studies and how these contribute to our understanding of the evolutionary history of fishes. We welcome oral or poster contributions dealing with the evolution, environments and biogeography of fossil fishes from all Periods and from all over the world. The more we know about the fossil record of fishes, the more engaging the questions will be. Our second aim is to gather the paleo-ichthyological community to increase communication and collaboration among colleagues.
Workshop
Open Data aand Analysis: from morphology to evolutionary patterns
Organizers: Kenneth De Baets & Emilia Jarochowska
Guest speakers: Melanie Hopkins (AMNH; part of PCI Palaeontology and PBDB), Stephan Lautenschlager (best practices for big data and 3D pdfs)
A key aspect of scientific research is reproducibility. This is also the case for paleontological research focusing on evolutionary or morphological patterns in deep time. Particularly relevant meta-data including sample size, qualitative and quantitative morphological information, stratigraphic and taphonomic context as well age constraints can be crucial to verify scientific studies and make them reusable for further scientific research. There is an increasing number of possibilities to make data and research available, ranging from large-scale database and novel publication opportunities to platforms which allow storing large data volumes. In cases where competition might be an issue, such platforms also allow embargoed access during initial research or peer review with a code of conduct. There are additional opportunities allowing publication of preprints (before peer-review). Among other advantages, preprints may be a way to preserve valid scientific data which led to negative or inconclusive results that would not get published otherwise. The focus of this workshop is to highlight importance of new methods to improve scientific reproducibility and discuss best practices to share research. We invite contributions concerning the methods and tools fostering data sharing and reproducibility, positive and negative case studies, and all voices and opinions concerning the current obstacles and potential solutions in palaeontology. We plan to close our workshop with a joint discussion on future of Open Data and Analysis in our field.