Venue, Accommodation, Travel Information
24.08.2015
Venue
The venue of the GfBS annual meeting is the Palaeontological Museum, Richard-Wagner-Str 10, 80333 Munich Richard-Wagner-Str. 10, and connected lecture halls of the Faculty of Geosciences, Ludwig-Maximilians-Universität, Luisenstr. 37, 80333 München, close to the well-known museum 'Lenbachhaus', and the 'Königsplatz'.
Parking space is scarce, so we advice to use public transport:
S-Bahn/Trains 'Hauptbahnhof' (10 minutes to walk)
U-Bahn (subway): U2 station 'Königsplatz' or U1 station 'Stiglmaierplatz'
Bus: museum line 100 station 'Königsplatz'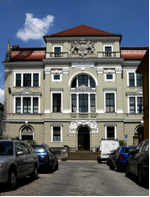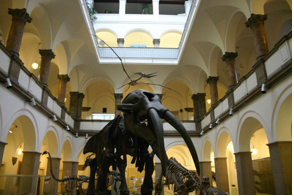 The neoromanic building Richard-Wagner Str. 10 dates from 1902. It was styled by architect Leonhard Romeis and has decorative inside and outside plastering ornaments as well as a beautiful atrium. Originally, it housed the girl´s department of the school of applied arts. In 1950 it became home of one of the LMU Earth Sciences Institutes, the Paleontological Museum, and the BSPG's collections.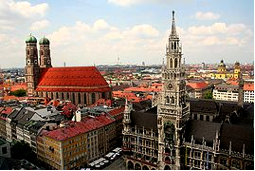 Munich, the capital city of Bavaria (Germany), is located on the River Isar north of the Bavarian Alps. With about 1.6 million people, Munich is the third largest city in Germany. The inner city compels through a mix of historic buildings and impressive architecture. The array of beautiful parks, various museums and stunning city center makes Munich an enchanting city, worth a visit!
Accommodation
Registration for the meeting will not include accommodation and conference participants are asked to make their own bookings. The city of Munich offers a wide range of accommodation for all budgets http://www.muenchen.de/hotel or www.hrs.de. Munich is a busy and expensive city, so early booking is highly recommended!
How to get to Munich
Arriving by (inter)national rail services:
The Central Station is close to the conference venue (10 minutes walk) and close to the city center.
Arriving by (inter)national coach services:
There is a Central Bus Station in Munich (ZOB) located at 'Hackerbrücke'. From there you can take all suburban trains into the city center in the general direction 'Ostbahnhof, Hauptbahnhof'.
Arriving by plane:
Munich has an international airport (MUC), which is located NE of the city. From there you can take an airport shuttle bus or two suburban trains (S-Bahn) into town (about 50 minutes), line S1 or S8, which depart directly beneath Terminal 1 and will take you to the city center/Central Station (Hauptbahnhof).